(This Instructions is only for persons who's choice is to go to Hell.)
If you don't

believe in hell fire, no need for you to proceed because you are already going to hell fire.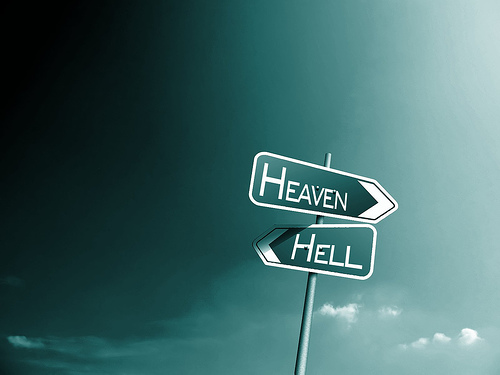 Image Source (Google)
Warning
This is not Gods will for your life and may be detrimental to your health,proceed with caution. Sure way to go to Hell; An overview can be summed up in which direction you choose to go. Simply avoid going down the right path. There are actually only two main ways to choose from.
*There is the wide highway to hell with it's many twisting turns.
*There is the straight narrow path that leads to Heaven.
You need only to avoid the narrow straight one to succeed in your goal.
BE IGNORANT TO THE CALL OF GOD
To avoid going down the narrow path to Heaven you must ignore the call of God to know Him personally and receive Jesus Christ as your Savior. This call of God may sometimes be difficult to ignore but if you set your mind against Him or just stay to busy to think about it you will succeed. Just keep going about your life doing what ever feels good going in any direction you like, having no absolutes in your life. And simply by default you will be successfully on your way to go to hell.
DO NOT WORRY ABOUT TRUTH
They just don't take the time to know the Truth. Just accept every lie as a fact. Its also easy for you to spread lies.
WHAT YOU NEED (sin)
To point you in the direction of the wide path to go to hell, you can choose of an assortment more or less of the following items : adultery, fornication, uncleanness, lewdness, idolatry, sorcery, hatred, contentions, jealousies, outbursts of wrath, selfish ambitions, dissensions, heresies, envy, murders, drunkenness, revelries

etc

;
Note: If you do these things it does not guarantee that you will go to hell but you must avoid receiving forgiveness that is freely offered to you though the Blood of Jesus.
To reach your goal you must ignore the Gift of God and His ways and concentrate on practicing sin instead. Remember wide is the pathway that goes to Hell and many will be able to find it. All these items above are readily available to help you find your way to go to Hell.
They are easy to obtain and are also very cheap. At least initially they are cheap, later on they may have some strings attached, (but if you listen to your enemy he is saying

"don't worry about that now... After all sin can be pleasant and give you momentary pleasure. You don't want to think about the results of sin that will always end up causing you great unhappiness and emptiness. And don't ever mention the unavoidable penalty/payment for sin, it's not so bad. God does not see 'all' and you can get away with it. Oh,... forget that, God is all seeing.... Well maybe the fact that God is all Good and would never allow people to be punished. Oh,... forget that one too.... Well forget it all,don't think about that.Just keep thinking hell will be fun because you are my child"
IGNORE GOD'S TEN COMMANDMENT No need for long explaination, just go contrary to God's word and commandment. This will also help you to

succeed

in your goals and obtain eternal damnation. You will rest in peace in hell fire!
BE COMPLETELY SELF ABSORBED After all, the world revolves around you and no one else really matters. If you don't watch out for yourself who will? (Make sure you you don't believe the promises of God, they may make you stumble and try to stop you from your determination to be Hell-bound)
IGNORE YOUR CONSCIENCE
Eventually you won't feel anything at all.
DO NOT ACCEPT JESUS
Do not allow the light of the Lord to shine on your evil deeds or they will be exposed which will be a very uncomfortable feeling and may lead you to see the goodness of God. Don't look at what God did in sending His only begotten Son to take your punishment. His Goodness will lead you to repentance and you will change your mind spoiling your plans to go to hell.
IT IS VERY IMPORTANT THAT YOU DO NOT LISTEN TO THE GOOD NEWS OF THE GOSPEL
You may not want to end up in hell if you find out how much the Lord loves you, the wonderful things He has planned for you and what trouble He went though for you not to go to hell. You may even find that you love Gods will for your life. And that may hinder big time your ambition to go to Hell. Besides you would most likely automatically stop loving evil and that would make you stop being miserable - now you don't want that! That's just not what your used to!
DO NOT BELIEVE IN GOD'S WILL
Stay away from anything that sounds like it might be according to Gods will like truly loving others. You might like it. And Do not trust God to deliver you from all your sins, just turn your back on the Amazing Grace of God. Keep trying yourself to overcome sins and you will certainly fail. You then can continue to be comfortably miserable as your accustomed to. You can even blame others for anything you want. Also never ever forgive others, after all you don't need forgiveness so why forgive others? Continue to hold onto your anger and let your anger control you.
WORSHIP ANYTHING
The highway to Hell is very wide. You can worship any thing and believe anything you like, do anything that feel good and it will be acceptable, as long as you don't Worship the God of Abraham, Isaac and Jacob, the Great I AM, Creator, Savior of the world and Believe on the name of Jesus Christ forsaking all others. If you let God be your Lord, His Spirit will lead you into all Truth and you won't be able to reach your goal and go to Hell.
Fi
nally,
DO NOT

ATTEND

CHURCH ACTIVITY
Always stay at home every

Sunday

, church is not important.

J

ust find anything good that will keep you busy like, watching movie, playing video games, and enjoy yourself. Its fun... Devil will not be disappoint

ed on you.
Disclaimer *
Note;.. Above, the difficulty of Sure Ways To Go to Hell! (100%) was rated as "easy", But it may prove to be hard to live with later. You will have to willingly crawl over the Blood of Jesus in order to go to Hell. If you insist on going there, He will try to convince you not to do it, He will send many messengers to you in many forms but He will not override your free will, He won't stop you.
WARNING; If you DON'T follow these instructions of Sure ways to Go To Hell, but INSTEAD walk down that NARROW PATH

and Be

BORN AGAIN believing JESUS CHRIST died and rose from the dead on the third day and RECEIVE HIM AS YOUR SAVIOR and

Lord according

to Gods will, you will be in great danger of ending up with ETERNAL LIFE FULL OF SUCH JOY AND PEACE BEYOND UNDERSTANDING. And here and Now you could Learn how to OVERCOME and be so Completely Satisfied and Content with God THAT YOU CAN'T EVEN STAND IT.